Manufacturing Facilities
PEB Steel Alliance Factory, BANGLADESH:
PEB Steel Alliance Factory located in Comilla, Bangladesh The factory covers an area of 22,000 square meters. It's built with modern facilities and state-of-the-art machinery & equipment. The factory will offer first class main frames, columns, beams, purlins, sheeting & components.This Pre-Engineered Buildings facility can produce 3,000 MT monthly.
This Building is a show piece of engineering excellence and innovation. It is 17 meters high with a slope of 4:10 and is built up using a combination of PEBs, castellated beams and open -web -joists. The Roof is profiled using LokSeam ® which is a leak- proof roof system recently introduced by PEB Steel.
This building has 8 roll formers of different shapes and sizes to suit a very wide range of applications and boasts, among its many specialized machinery, an 8.5 m folder/slitter from Australia.
KALTENBACH Machine: GERMANY
PEB Steel Alliance in its pursuit for providing its client with ever improved quality and service is procuring the state of the art Kaltenbach plate processor. This addition in the factory equipment list will greatly enhance the capability of the factory. 
KALTENBACH (KF 2114) PLATE PROCESSING CENTRE is a versatile, computer controlled and fully automatic machine with multiple operations. The working range is plates of 220 mm to 2100 mm (width), 500 mm to 12000 mm (length) and 6 mm to 100 mm thickness. The Numerical Controlled (NC) Drill unit consists of 14 drill spindles with automatic tool changing facility with programmable drill feeds and rotation speeds. The drill size is between 8 mm to 56 mm. The machine has a "Length measuring system" with a NC measuring carriage and a "Hydraulic Gripper" to measure the plate and keep it in position.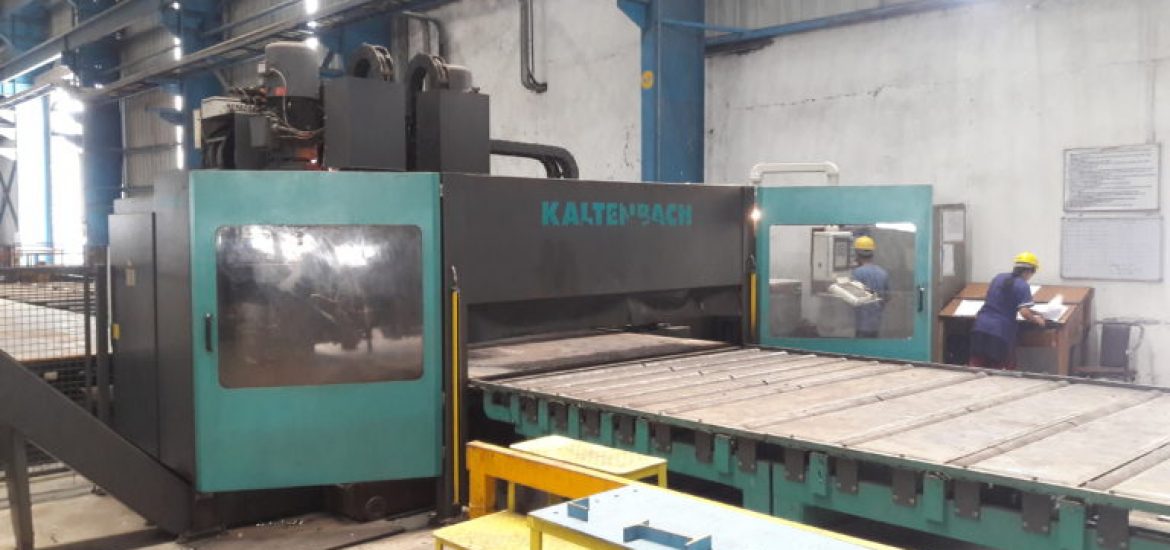 The whole operation of the machine is computer controlled and works on "Nesting" and "Lantek" software. The versatility and automation of this Plate Processing Centre saves the user's cost on personnel, space and multiplicity of machines and thereby improves the productivity.
This German machine is a benchmark in efficient and accurate processing of plates required for building structures. It is simply and an engineering marvel, leading PEBSAL a step ahead of others in technological advancement in the PEB industry sector. It is yet another FIRST in Bangladesh by PEBSAL.