Lock Seam
LOKSEAM® are a superior quality panels that were introduced in the relative recent past in the United States and since then they have gained extreme popularity due to many advantages.
PEBSAL has recently introduced Standing Seam with Nasir Glass as its first client. It is a relatively new innovation introduced in the United States and has gained huge popularity.
The principal reason for this, is its protection against water leakage. The main feature that makes it preferable are:

a. High structural strength provided by higher panel rib.
b. Elimination of panel fasteners that are one of the causes of leakage.
c.Temperature expansion and contraction of roof addressed through use of moveable clips.
d. Full roof single panel possible thereby eliminating lapping of panels and leakage. High rib allows its use as an architectural panel in addition to its high structural strength.
Panel rib depth is 65 mm. This is much higher than normal panels which are usually below 35 mm. This gives an added structural strength as well as an extra protection against water leakage because the seam of the panel is high thus the water can not get to it even in heavy rain storms.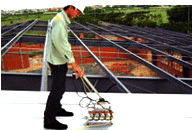 They eliminate fasteners going through the panels, thus causing some damage and potentially a cause for leaks.
LOKSEAM® system provides for Temperature expansion and contraction of roof panels through a movable clip. Movement of panels due to temperature is one of the main causes for the water leakage in " fasten through " roofs where screws are used to connect the panels directly to the roof framing members.
LokSeam® panels usually are site rolled. Thus, panels can be as long as 100m. long in one piece. This eliminates the need for panel end laps which is again one of the reasons for water leakage as well.
Because of special design of the ribs on this panel, it is very often used as an architectural panel in additional to its structural capabilities.
84 Meters Single Panel LOKSEAM® for Obayashi Corporation, Japan