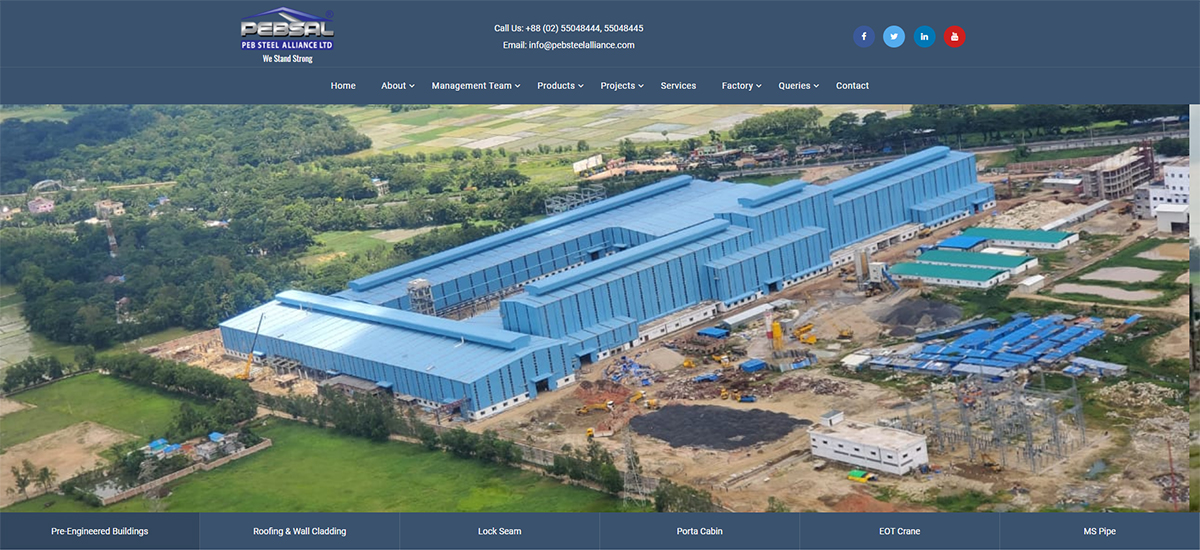 ON THE 15TH ANNIVERSARY OF PEBSAL, A NEW WEBSITE IS BEING LAUNCHED.
We are pleased to announce the unveiling of our newly developed website on the occasion of our fifteenth anniversary. Visit http://pebsteelalliance.com/ for more information. Our Website is now more user-friendly, faster and easier to use. We strive to offer the most reliable, up-to-date details to our clients and to share our experience and skills in the field of Pre-Engineered Buildings.
The new website makes it easier to know about us and who we are, how we function, and what services we provide. The site includes interactive social media buttons for Facebook, Twitter, LinkedIn, and YouTube, amongst some of the new features, to facilitate better connectivity with customers. Also in our newsletter, we will be regularly updating articles with useful facts, business announcements, and customer milestones.
Welcome to http://pebsteelalliance.com/
SQ Group Shook Hands with PEBSAL
SQ Celsius Ltd, the foundation of SQ, is regarded as most preferred suppliers to renowned high-end retailers. SQ is well known for its service in the clothing sector both at the local and international stage. SQ recently made the decision to extend their company by building a warehouse for SQ Celsius Ltd. PEBSAL will be there to help them reach this important landmark in their path to success.
PEBSAL will be responsible for both the civil and steel aspects of this undertaking, according to the contract. SQ Celsius Ltd's warehouse building is about 60,000 square feet in area and weighs about 435 metric tons. For completion of this landmark structure, a five-month construction timeline has been set. SQ's decision to shake hands with PEBSAL was made simpler due to our well-known integrity and long-standing reputation in the Steel Building Manufacturing Industry.
SQ has become a member of our family and has enriched our clients list, which PEBSAL appreciates. PEBSAL is honored to be affiliated with this renowned Bangladeshi conglomerate.