PEBSAL to Contribute in Extending the range of Glass Export Services of Nasir Group
Nasir Group, the pioneer of the glass industry in Bangladesh is holding the top-line position in exporting all kinds of tempered glasses. Now Nasir Group is going to reach another landmark by extending its range of services in this industry. Recently they have decided to set up a multi-functional glass production complex beside the existing float glass factory in the name of Nasir Quality Glass Industries Ltd. Outstanding performances and the relentless commitment of PEBSAL in completing the previous 600ton float glass project have prompted the client to honor us with another MOU of their 2nd phase of 600ton quality glass production complex.
The 600ton glass factory covers almost 400,000 sq feet in area and 2714 MT in weight. The Melting, Forming, Annealing, Cutting & Finished Warehouse buildings will be used together as a mainstream of the glass production where other five buildings will act as a supporting facility for production of glasses. On-time completion of the projects is the main strength of PEBSAL, which assists Nasir Group to take a quick decision on awarding the contract of 2nd phase of 600ton facility to us.
PEBSAL is very much proud to be a part of the journey of growth on a repeated basis with Nasir Group.
MEGHNA GROUP & PEBSAL, Another Handshake to Extend the Growth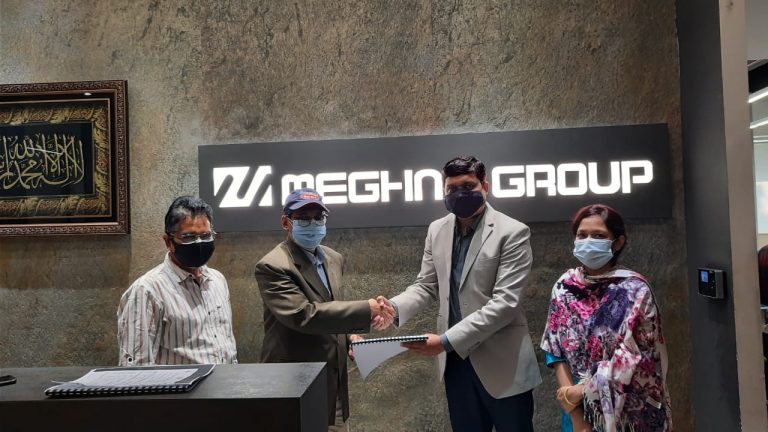 Meghna Group is one of the largest Bangladeshi conglomerates having vast experience in exporting the bicycles, tyres, components, garments, plastic polymers, retail & finance. PEBSAL is associated with this group since 2018 for their various expansions of the business entity. The successful completion of the previous projects within the limited timeframe prompted Meghna Group to honor us with MOU of more projects in 2021.
The newly awarded projects namely Assembly & Liquid plant, Aluminum Extrusion, Shed for KIA Motors, Uniglory Production & Intermix Building, which weighs approximately 1085 MT. PEBSAL's relentless commitment to supply of high-quality materials within a specified timeframe keeps its name at the top of the list of steel building industry.
PEBSAL is very proud to be part of the journey of the growth with Meghna Group.